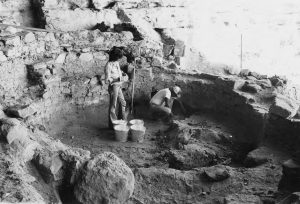 The PLPCO Archaeologist, Kris Carambelas, works with state and federal agencies to promote the responsible use and preservation of archaeological resources and oversees permitting of archaeological work on state lands.
Archaeology Permitting
Issued to qualified individuals to conduct surveys on state land and is required by the Antiquities Section of the Utah Division of State History to access archaeology site files and receive site and project numbers.
Issued to permitted principal investigators who need to perform testing or excavation of archaeological resources on state lands.
Application Submissions
Applications and supporting documentation can be e-mailed to kcarambelas@utah.gov or sent to:
Kris Carambelas
Public Lands Policy Coordination Office
5110 State Office Building
P.O. Box 141107
Salt Lake City, UT 84114-1107
Please allow for a 30-day review period for both types of permits.
Update: The U.S. Forest Service recently released a guidance manual for archaeological consultants. "Guidelines for Consultants for Identifying, Recording, and Evaluating Archaeological Resources in Utah".