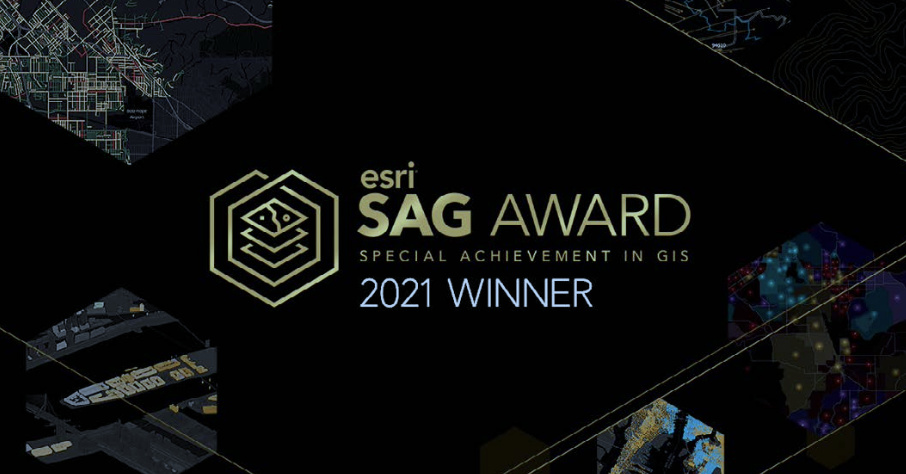 Geographic Information System Provider Esri Awards PLPCO at Virtual User Conference
REDLANDS, Calif.— July 14, 2021 —Esri, the global leader in location intelligence, presented Utah's Public Lands Policy Coordinating Office (PLPCO) with Esri's Special Achievement in GIS (SAG) Award on July 12, 2021, at the annual Esri User Conference (Esri UC), which was presented in a completely virtual format. Selected from over 300,000 eligible candidates, PLPCO received the award for its innovative use of mapping and analytics technology, as well as leadership in the field of State Government.
The SAG Awards are intended to demonstrate an appreciation for organizations using GIS to understand complex data and meet challenges around the world. The users honored with awards are demonstrating all the groundbreaking possibilities of GIS software.
"Meeting our users in person is part of what makes Esri UC so special to me and everyone I work with, but the health of participants is paramount," said Jack Dangermond, Esri founder and president. "As always, I am honored to present these awards to all the organizations recognized for the bold examples they set applying geospatial technologies to their important work in the government, business, and nonprofit sectors."
In 2012, the Utah Attorney General's Office filed lawsuits relating to R.S. 2477. The goal is to (1) confirm the State and counties as owners of the R.S. 2477, (2) to allow counties to make local decisions about route maintenance, (3) to ensure public access to federal public lands for recreation, personal enjoyment, and any other purpose, and (4) to preserve local transportation network for the local economy. Goal of the GIS team was to enhance workflows further with commercial-off-the-shelf (COTS) functionality to increase staff efficiency.
"Using GIS best practices and providing access to authoritative data, our staff of attorneys and policy analysts are able to quickly and effectively make the best-informed decisions possible," said Jason Wolf, PLPCO Project Manager.

"Our small GIS department is honored and humbled to receive this award," said Jason Wolf. "Our teams goal is to submit proof of public use of each claimed RS2477. PLPCO's GIS team assists the Utah Attorney General's Office in RS2477 litigation by providing research and support. Early on PLPCO staff identified a need for a way to manage all 12,500 RS2477s. Along with all the historical maps, data, and evidence that's part of building a litigation strategy, we soon realized that the state needed a way for attorneys and judges to do site visits on all the roads. We turned to GIS for a solution. 
Using 360 Degree Video and GPS technology we are able to create a fully immersive site visit that is completely virtual. In 2020, this platform was successfully demonstrated as evidence in the federal court during the Bellwether trial. The success of this program led our team to develop a public-facing application called Access Map 360°. 
Access Map 360° is an online WebGIS platform that gives the viewer a unique way to explore Utah's public lands." 
PLPCO was one of 193 organizations—in areas such as commercial industry, defense, transportation, nonprofit work, telecommunications, and government—to be honored.
Esri staff annually nominate hundreds of candidates from around the world for consideration, and Dangermond selects the finalists.
For more information on how PLPCO is innovating through the use of geospatial technology, visit roads.utah.gov.